NaroEscape Motorsports Cars
NaroEscape Motorsports primarily operates 2 Porsche 914′s nicknamed Papa Smurf and Huey.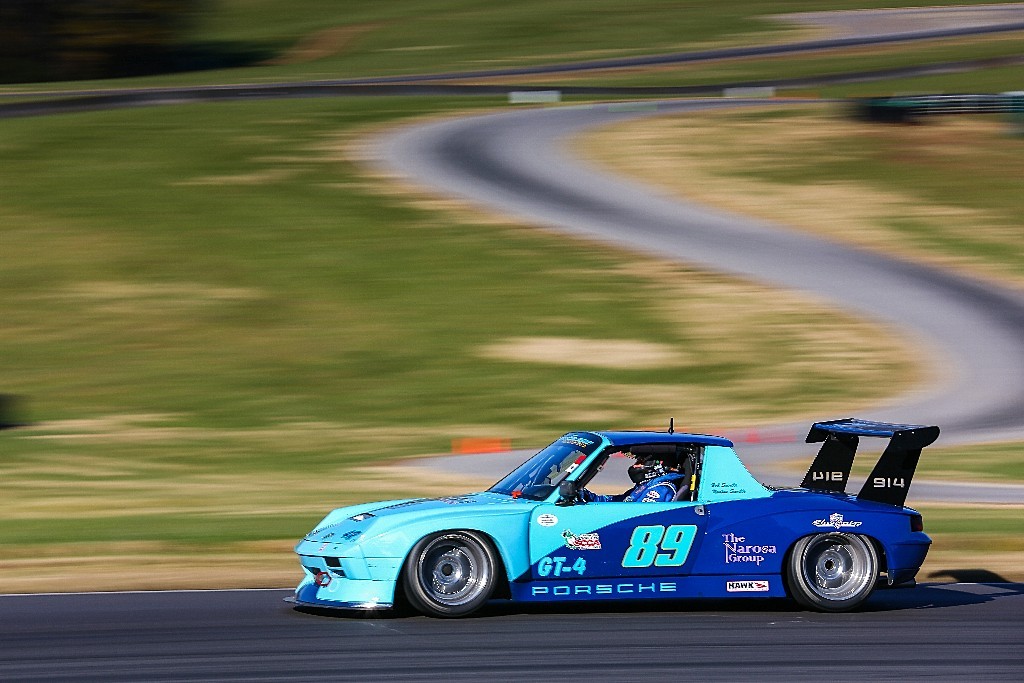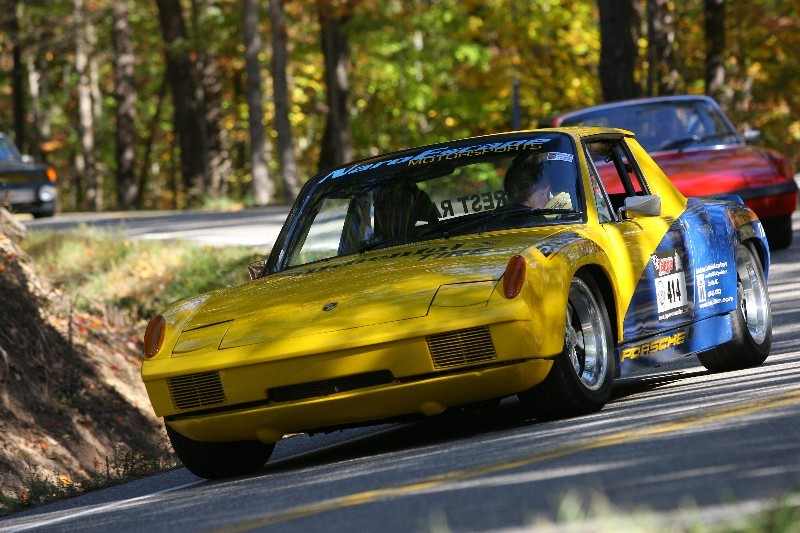 Papa Smurf is a long standing member of the family, originally Nadine's father's daily driver in stock form.  He is a 1974 Porsche 914 that over the years has been highly modified and fully track prepped for High Performance Drivers Education  track events and PCA Club Racing. Originally running in PCA GT5 R, he's now been upgraded to GT4 class.  The team ran their first SCCA Hill Climb in Papa in 2013 and Bob has multiple class wins with him in various engine configurations.  Papa continues to evolve into a very competitive, and fun to drive, all out race car.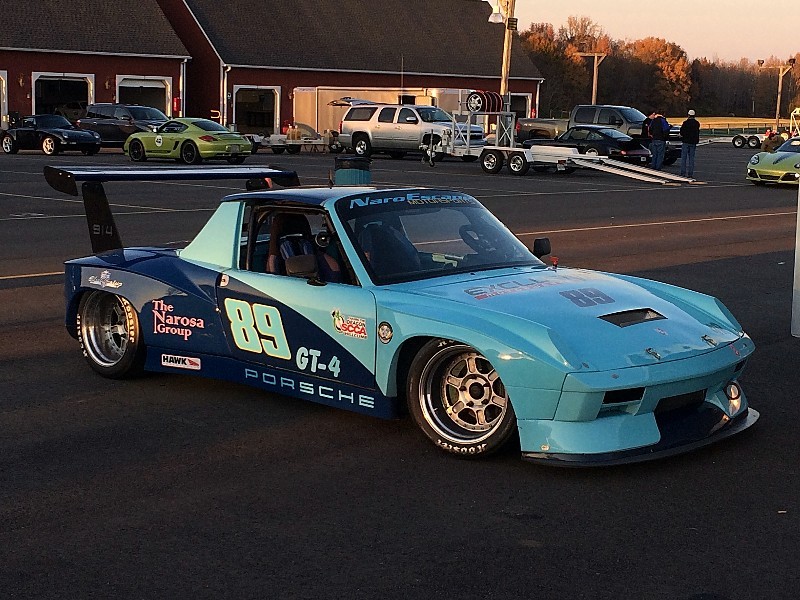 What a long strange trip it's been with Papa Smurf in our family…So lets start at the beginning.
Back in 1993, Nadine's father said he was selling his 914. OK, lets go back a bit further. When I was growing up, my Uncle and Aunt had a 1970 911, and 1976 914. I always thought that their 914 was the ugliest car ever made….  So, fast forward to 1993 and when Nadine's dad said he was thinking of selling the 914, she immediately said "No you're not, we want it"…um…we do??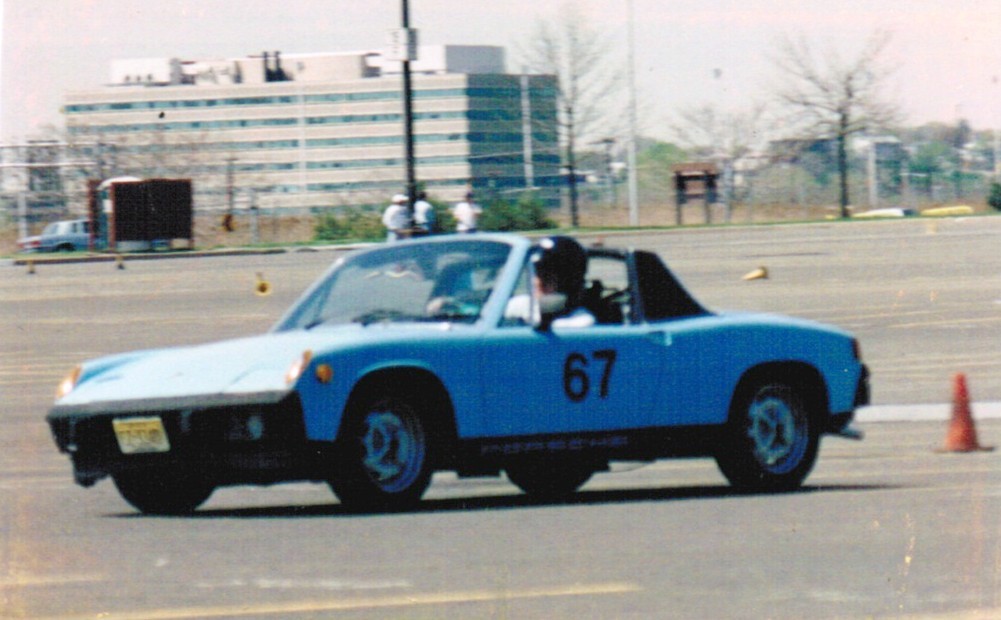 (Papa Smurf in his early years)
So, a few months later we were flying to Colorado to pick up this baby blue 914 that he left at Stapleton Airport. He mailed us a key, so we got in, and off we went to drive back across the country to New Jersey where we lived. Along the way, we ran into torrential rain storms, searing heat and all kinds of other weather. And no…the car did not perform flawlessly. We had issue after issue. Mainly it was with fuel pick up…as in the engine was not getting any fuel.
Our first attempt to fix it brought us to a tow truck driver's house in Davenport, IA where we removed the fuel tank, trying to figure out what was going on (keep in mind, none of us knew anything about 914′s…he'd actually never seen one before). We replaced a bunch of fuel lines, hoping that was the problem, and off we went.
That wasn't the problem… Next stop was in South Bend, IN where we met the local PCA Newsletter editor. We determined that somehow, the fuel tank was settling on the fuel lines below when the tank was full, so we propped up the tank, propped up the front decklid with pennies to clear it, and off we went, home to NJ.
Along the way, we were really surprised that this car was only a 4 speed and didn't pull from a start all that great. For about a month after we got home, it was a 4 speed…until one day while sitting at a light Bob was messing around moving the stick back and forth and hit upon this hidden gear that was somewhere under his leg!  What the heck is that?  He cautiously took off from the light and HOLY COW…torque and power!! (OK, not a ton, but much more than starting in 2nd for months!) He raced home and told Nadine, who then said "oh yeah, I remember that now…yeah, 1st is down under your leg, just like 4th is in the glove box and 5th is under the passenger's seat. Ooops…forgot!" Well, this opened up a whole new world with this car!
First thing we did was join PCA, then for the next few years, we developed the car into a pretty good autocross and track car – still maintaining the original body but having European Performance Center (EPC) upgrade the engine from the stock 2.0 liter 4 cyl to a 2.4 liter 4 cyl with nearly 200 hp! What a great engine that was!! Fast, reliable, lots of torque, etc. We put in a roll cage for stiffening and safety, seats, harnesses, upgrades suspension, etc… Won a handful of NNJR Autocross series championships and did 3-4 track weekends a year. Life was good.
Then…at Limerock in 2000…Bob rolled it. Yep, you CAN roll a 914. Going onto No Name Straight in a Northern NJ PCA Drivers Ed, he got a wheel off, spun, and the passengers rear dug into the infield hill and pivoted up, over, onto the roof, back onto 4 wheels. Wow…that sucked!
Bob was devastated. He broke his father-in-law's car. It's been in Nadine's family since 1980, and he broke it….damn….
So off the car went back to EPC. While at their Christmas Party, owner Bob K showed us this 914 he had just finished putting together with this AIR body kit….WOW did that look cool! Yep, we needed that!!  So we set out with a plan to repair the car and replace all 4 quarters, front/rear decklids, both bumpers and both rockers with this body kit.
It took 18 months, and we moved to Charlotte, NC during that time, but the car was finally done!
We got the car back in February of 2002. Someone during our summer party of 2002, after a few adult beverages, commented that the car was Smurf Blue "Looks like a big Smurf – Papa Smurf"..and the name stuck!
Since that time, Papa Smurf has undergone many changes and transformations. A few years into it, the 4 cylinder engine was  replaced with a 2.2 liter 6 cylinder, which we ran for many years. The two tone paint idea came from Bill Dunster at Autobahn Collision, to match the paint scheme of Huey – our other 914…Upgraded coil-over suspension, multiple changes in transmissions, new/better safety and weight reduction projects came as the years went by… . We cleaned up the interior, ripped out all the unnecessary wires and stuff, and really made Papa look good!
In 2006 Bob started racing in the PCA Club Racing program and consistently won or podiumed in his class.
Starting around 2010, the little 2.2 liter engine began having issues. It started with a simple RMS leak and slowly but surely developed into full blown engine issues. We thought about just rebuilding it, but decided to 'go bigger' and in 2011 found a really well built 3.4 liter engine! Wow..what a difference!  We used to say that Papa was more car than engine – meaning that with the engine could never overpower the capabilities of the car. NOW, with the bigger engine, it was more engine than car!  Ok, maybe not more more engine than car, but you certainly have to pay attention to DRIVING it again! We put the new engine in just in time for the Oct 2011 PCA race at CMP. The engine performed great, but we actually broke the suspension console on the drivers side!  Too much torque/power for the stock set up. So…we replaced the suspension mount points with a kit from Tangerine Racing and all was good.
 Then in Sept 2012 while at Roebling Road Raceway, Nadine heard a sound in the engine which upon examination turned out to be a spun rod bearing. the bearing was worn completely off, allowing the piston to hit a valve, break a rocker, and jam the rocker into the cam housing thus destroying the little oil supply tube in the process.  So the engine got torn down, resurfaed the scored crank, replace the needed parts, and back in business. On advice from MANY race shops, we sent the crank to CCR which at the time was in California. Armondo from CCR is supposedly the "end all-be all" when it comes to Porsche cranks (more on that later). He did the work in about 4-5 weeks, good to go.
5 months later, again at Roebling, Bob  was on lap 2 of my practice session for the PCA Club Race and all of a sudden "BANG". Uh oh…. got towed in. Back at the shop, this time, that same rod that spun last time had now broken. so…tear down, replace ALL the rods from Carillo to Pauter (long story there) send crank to Armondo – 4-5 weeks get crank back, rebuild with all new bearings, check everything out, etc. all good.During the down time, we worked on some aero for the car, installing a wing and splitter:
First full weekend out at Road Atlanta, Papa performed Perfectly!!
We also did another DE at CMP, and an SCCA Hillclimb. All good….Then in July 2013 we make the 9 hr trek to Mid Ohio for the PCA Race. Again..on Bob's second lap of his first practice – BANG. This time..its really bad. Oil everywhere. Broke a different rod which: busted a hole in the case, broke a couple valves, destroyed the GT3 oil pump, damaged a piston and cylinder, etc, etc, etc…. At this point we are obviously thinking WTF???  (OK, we've been thinking that all along but now…really????)  so we look back on everything and see what we've done and what we can do different:
We had been running a stock 914/6 oil tank all this time, mounted in the normal 914/6 position. Maybe not enough oil? Knowing we had this monstor GT3 oil pump ($1800 pump btw) maybe the flow was too great, the lines too small (same -12 lines we had with the 2.2 engine…heck with the old 4 cylinder engine too to/from the cooler) and we were foaming the oil or starving the engine because not enough oil to keep up??
So…now we needed to do a COMPLETE rebuild consisting of new case, new P&C's, new oil pump, couple new valves, this time a new crank…and of course while we were in there, we ported the heads, increasd the valves sizes, better springs, new cams, etc. We decided to back it down to a 3.2 but increased the compression and valve sizes, thus getting more HP & torque, but more easily sourced parts if need be….We had Armondo offset the rod journals and put bigger race bearing in (supposedly a trick way of getting more torque). All was back together and good, finally right?
Nope. First weekend out at VIR in Nov 2013, Nadine was on lap 2 (see a patern here?) and heard that tell-tale knocking noise. Again…another spun bearing!  Seriously???…this is getting absolutely crazy! This time, however, we found the problem – the oil line from the tank to the engine had collapsed on one of the bends, thus again starving the engine for oil…Can we ever catch a break???
And after all that..here's where it gets REALLY frustrating….
Just before Thanksgiving 2013 we send the crank back to Armondo, who has now moved to Texas. Our normal process is: we send the crank, he calls to say what's wrong and what it will cost, then 4 weeks or so later he gives me a final total with shipping, we overnight a check, he ships, all good. As you can see above, we've done this numerous times so we have a very good relationship going here (unfortunately).  He had told us he feels so bad for the issues we've been having that he would give us a big discount and only charge for the outside work he has to pay for (nitriting) and the bearings. Fair enough. Just after New Years, we get a message from Armondo on how much we need to send him a check for.  So we overnight a check and assume we would see the crank in a week.
A week goes by…no crank. We call him, leave a message. Our mechanic Lou calls him…message. 2 weeks go by….we finally get him in early February!!  and he says he is working on it now and we will have it by the end of Feb!! WTF? We get a sob story about how expensive the move to Texas was, and he needed my money to pay for the nitring and bearing BEFORE he got it done, not after like normal. We're pissed, but he said he should have it done in a few weeks, we wait.
Early March…no crank. We will spare you the daily commentary of lies we got, but after 2 more months of "I'm working on it today and will ship tomorrow", we had a buddy of ours go to his place and pick up the crank, gears and bearings…at THE END OF APRIL!!!  We had him ship it all to Pauter and was told it would take 2-3 weeks to get the work on the crank done.
3 months later, with almost the EXACT SAME responses to our questions every week ("working on them now, will be out this week") we got everything back from Pauter in early August!!! yes…August 2014 for a spun bearing in November 2013!!
While we were waiting, we did major changes to the oil system: All the lines from the tank to the engine are now 1″ hard lines, new oil cooler, bigger (-16) lines from the engine to the cooler, added a small oil supply feeder resevior just before the engine as recommended by Peter Dawe that holds about 2 qts immediately before entering the engine, changed some of the engine wiring to have a different start up procedure (turn the starter with no ECU/Fuel/spark until there's oil pressure, then kick on the rest of the power to start the car), redirected the engine and oil tank vents, and much more …..
Our first weekend out was the end of October at CMP. Everything worked perfectly (yes, we made it past Lap 2!!!), though we broke a brand new CV joint. Back home, we drained the oil – no metal!!  Positive sign!!!
Here's a video: CMP 2014
Late November we take the car to a very cold VIR. Good three days (except broke a shift rod…another story for another day), but engine was good. Needs dyno tuning, but performed strong and solid.
Another video: VIR 2014
So there you have it…The little 1974 2.0 914 has grown from a daily driver in Colorado to a full blown race car in Charlotte.  There have been a lot of stories along the way, some bad, mostly good, but Papa is part of the family and here to stay forever!
Huey is a 1971 Porsche 914 sporting a 3.2 liter Carrera engine, GT flares,  roll cage, race seats and harnesses, but is still fully street legal. Bob and Nadine have used Huey to compete in 2006 & 2007 Targa Newfoundland, won many PCA autocrosses, and SCCA Hill Climbs. The multi-purpose nature of Huey has won him many Concours and People's Choice awards, TSD rallies, and been featured in multiple magazine articles including Excellence and PCA Panorama.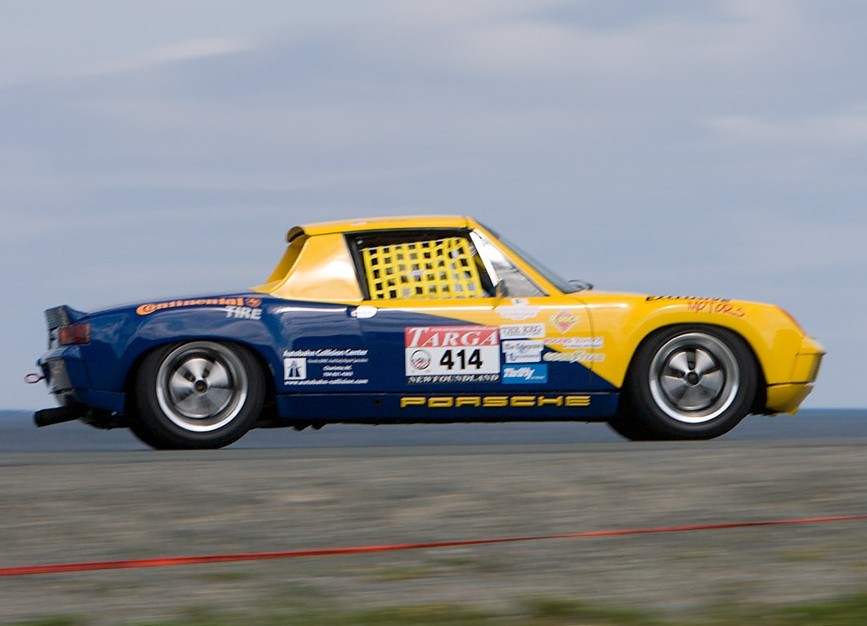 CHAPTER 1: THE IDEA…
Boy is there a lot to say about this car…. First and foremost, we'd like to thank Bill Dunster and John Forbes for making this car happen.
It all started out when Nadine and I decided we wanted to run the Targa Newfoundland together in 2006. So, we needed a car. Naturally, since we both track our other 914 – Papa Smurf – we decided it needed to be a 914. Unfortunately, Papa Smurf is not street legal, which is a requirement of Targa Newfoundland. So, we contact John at Black Forest and he said he had one from a customer that he was helping him sell. It was under a tarp behind the still-being-built house of his business partners, Max Williams and Stephanie Slavin, and we needed to go look at it….
Well, to be honest, it did not excite me. It was missing everything – motor, interior, gaskets & seals, etc. But, John assured me we could make this toad turn into a prince. So, I agreed to buy it, and trailered it home. OK, well, I tried to trailer it…Jeff Scott, a friend and local PCAer came with me to pick it up one night. Unfortunately, we forgot to bring a wrench to loosen the bolt that holds the trailer ramps down. So after a couple hours of trying to "create" a wrench, we finally gave in and drove over to the home of Casey Holzman to pick up a wrench and loosen the ramps. A note here….Max and Stephanie live out in the middle of nowhere, so it wasn't like we could go to the local hardware store to pick up a wrench at 9 pm at night..
So I trailered it home, and this is what it looked like when Nadine saw it for the first time…..
Needless to say, she was a bit concerned…I think the exact quote was "and why did we buy this again?" So, we set out to strip it down, grind and prime the rust, and basically make it as prepared as possible for the body shop.
Bill at Autobahn kinda gave me a look like "you want me to do WHAT with this? I'm good, but I'm not a miracle worker…"  I told him that not only did we want this to look better for Targa, but we really wanted it to be a show car too…. He was not amused.
So, we needed to come up with a paint scheme. We originally wanted to do some sort of blue because Papa Smurf and our 993 cab were blue – maybe Mexico blue or something like that. Then as we started to look around, it came to us that we should do it in the colors of the old Sunoco 917 cars – blue and yellow with a red pin strip. So Bill went about finding the correct colors.
Throughout this time, we were acquiring all the "stuff" for the car, including GT style flares, roll cage, bumpers, valences, and misc. other body parts. Most of the safety components (roll cage, Konig Seats, Deist Harnesses, camber truss, etc) came from Stable Energies up in NJ. Bob there built Papa Smurf, so we have a long history with them.
Here it is at Autobahn getting flares, filling rust and dents, and getting primed.
It was slowly but surely coming together. Nadine went about fixing the door panels, completely recovering them with new vinyl and new door pulls.
The next time we saw it, it was painted!! Just like that. Interior, exterior, everything. Wow it looked good.
Next came putting it all back together. John came by our shop to help. First we installed the OEM style oil tank in the wheel well. The we took the engine out of Papa Smurf, and installed it into this car. I was amazed at how easy that was: dropped out the entire engine, transmission and exhaust all in one assembly. All in a couple hours.
So, now we had an engine in the car but it was not connected to anything yet. The car still needed all the stuff to accept a 6 cylinder engine. So, off it went back to Black Forest Racing so John and his crew could run the oil lines, hook up all the gauges, relocate the battery, etc.
In the middle of this, John and his crew were competing in the VIR Gold Cup, so back the car came to Exclusive Motors so that we could install the seats, harnesses and other interior parts. This, as is always, was easier said than done. Harnesses were easy…it was those seats. It's just short of impossible to get the mounting bolts under the seats in a 914. But, with trusty welder in hand, one of our employees David Fender and I managed to get them in (though I learned later that the drivers seat is slightly crooked). Unfortunately, we had to cannibalize a few of the parts from Papa Smurf, something I really did not want to do. So, now we have to reinstall everything back into Papa. But, by the end of the weekend, the car was ready to drive…it just needed the engine to work.
When the Black Forest team got back from the track, back it went to their shop to finish up.
See, we were trying to get this car finished for the annual Carolinas Region Porschefest – a multi-event weekend consisting of a Concours, Rally and Autocross. Figuring this would be the cleanest that this car would ever be, we planned to show it, run it in the rally, and compete in the autocross. Both Bill at Autobahn and John at Black Forest were definitely on board with that timeline as this would be a showpiece for both of them. However, at 3pm on Friday…..still no car.
Then, finally, John delivered the car back to us at Exclusive Motors so we could clean it up, and drive it to the event registration, which was luckily only 20 minutes away.
We realized when we drove it to the hotel that this was the longest this car had driven under it's own power in probably 10+ years. It drove great, sounded wonderful, and really turned heads running through town.
In the end, we won 2nd place in Modified Race Class at the Concours, 2nd place in the Rally, and 3rd place in the Autocross. Not bad for a first time out, not sorted out yet, with old suspension. Funny thing about the rally….our odometer was not working. We guessed at just about everything, and got all of the tricks right!!
OK, so how did we come up with the name "Huey"? The car is painted the exact colors as the unstoppable Sunoco Porsche 917 driven by Mark Donohue. So at first we thought of calling it "Donohue", but that sounded too formal. After a long night and lots of beer, one of our friends came up with "Huey" from DonoHUE. Since the other 914 is named "Papa Smurf", we figured it was only appropriate to give it a cartoon character name. Besides, look closely…kinda has a yellow duck bill, doesn't it? Again, many, many thanks go to Bill Dunster at Autobahn Collision, and John Forbes at Black Forest Racing for helping us get this car to this point. There was still a lot of work needed to be done to get it ready for Targa Newfoundland, but we had a great foundation to start with!
Next stop, Targa Newfoundland 2006!!
CHAPTER 2: TARGA NEWFOUNDLAND 2006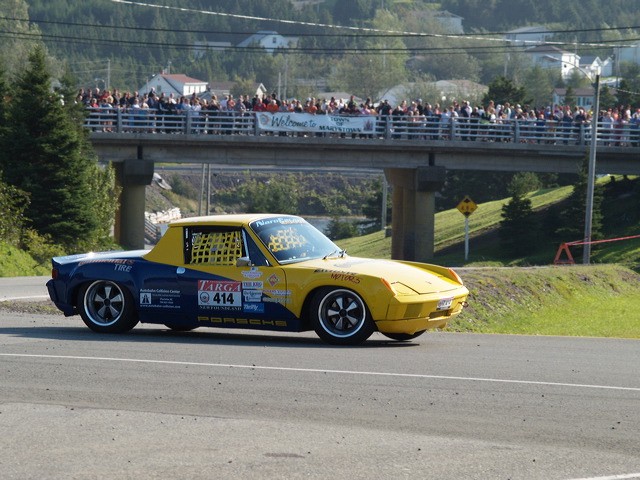 (as published in May 2007 issue of Porsche Panorama magazine)
Mae West once said "I'll try anything once, twice if I like it, three times to make sure". That's kind of how my association with Targa Newfoundland has evolved over the past three years. So let's start with a little background.
Back in 2004, a good friend and PCA member Casey Holzman, asked me if I'd like to navigate for him in this road rally up in Newfoundland, Canada. "Excuse me? Are you talking about Newfoundland, like up somewhere near Iceland or something?" I asked. "Yep, something like that" he said. Then over the next 5 months, he proceeded to twist my arm until I caved in. "It's a once in a lifetime opportunity" I told my wife, Nadine. So, off we went to our first adventure. Nadine came to keep us all organized, and we brought along Jim Burton of Eurowerks to help us in case we had any mechanical difficulties. Luckily, Casey's 1980 911 SC was so well prepared that the issues we had were few and far between. We placed very well and came home with a lot of hardware.
"….twice if I like it…". Midway through the week, we were already planning for next year. "What happened to 'once in a lifetime opportunity'" Nadine asked me…hmmmm….busted. Well, since we had such a great time, Nadine was not about to be left home, so she volunteered as a Competitor Relations Officer for 2005, which kept her very involved with everything.
Unfortunately, our 2005 campaign ended early when we wrecked the car on day one. If you happened to catch the Speed Channel special showing the Orange Continental Tire sponsored 911 airborne and hitting the side of the mountain, that was us. Neither of us was hurt, but it did not make for an enjoyable week.
Which brings us to this year and "….three times to make sure". While working closely with the teams last year, Nadine got a good taste of what the competition was all about, and by the end of the week, she said to me "I want to compete next year". That started the year long journey of building a car, organizing the trip, finding sponsors and stressing out about all the details. I would drive, she would navigate. Our friends said we were crazy and hoped we would not come back filing for divorce.
WHAT IS TARGA NEWFOUNDLAND?
By now you may be asking yourself "What is this Targa Newfoundland thing anyway, and what's so special about it?" Targa Newfoundland bills itself as the Ultimate Motorsports Adventure, which is an extreme understatement. Modeled after the old Targa Florio in Italy, and more recently Targa Tasmania in Australia and Targa New Zealand, Targa Newfoundland is a week long adventure that tests you and your car's stamina, mental and physical strength, and skill. It takes you through little fishing villages, local suburban neighborhoods, back country roads, and some of the most beautiful countryside in the world. Did you ever want to run flat out through your subdivision? Buzz through that really cool road you like to drive, or run through the middle of town without fear of being stopped by the police? It's 5 competitive days of driving to a stage, driving as fast as you can from start to finish, driving to the next stage, and doing it all over again in a new place.  Multiply that by 40 stages and you have Targa.   In the evenings, you make sure your car is all in one piece, do repairs as necessary, and park in the town ice rink for a car show (we are in Canada, after all, and all towns have hockey rinks) so all the locals can come and see up close who and what just ran through their neighborhood.
Unlike normal races, each class has a handicap factor based on the year and modifications of the car. Your given a time to beat for each stage: beat the time, and you've aced it. Take longer than the time, and you get penalty seconds. The team with the lowest penalty time after all 5 days wins.
One of the big goals is to win the coveted Targa Plate. For each stage, there is also a "Trophy" time. If you beat the Trophy time for EVERY SINGLE stage all week, you win the plate. Have one really bad stage or mechanical difficulty, and you're out.  It's a measure of consistency and endurance, and a surprising few win the Targa Plate each year.
Oh, and along the way, EVERYONE considers you a celebrity and wants your autograph. Children, teens, adults….everyone. For that moment, you are the most amazing person in those people's lives. It's very, very cool
"HUEY"
(quick recap from Chapter 1)
Originally, I had planned to write an article about the building of Huey, our 1971 Porsche 914/6 – GT conversion, and may still do that later. But for now, I'll give you the nickel tour of the past 9 months: After finding a donor chassis that had no engine, no interior, and a transmission sitting in the passenger seat area, we brought it to Bill Dunster at Autobahn Collision Center to bring it back to life. Bill put countless hours into working out all the rust, straightening the body panels, fitting the flares, painting, welding in the roll cage, and generally bringing it back from the dead. Then John Forbes at Black Forest Racing installed the wonderful 2.2 liter 6 that he built from our other 914 race car "Papa Smurf", and got Huey mechanically sound to face the rigors and beating that Targa will put on a car and it's crew. (thanks guys!!)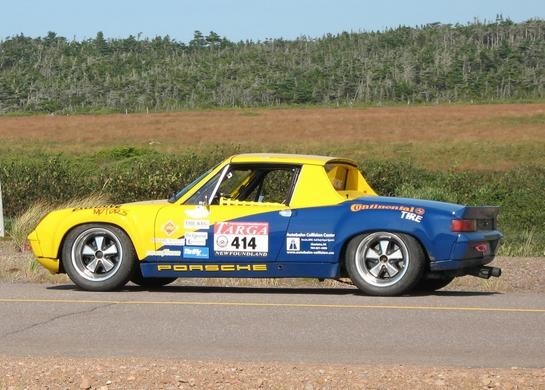 So, how did it come to be named "Huey"? Well, we painted it the correct blue and yellow of the 1971 Sunoco Porsche 917 driven by Mark Donohue. We considered then calling it "Donohue" but that sounded too formal sitting next to "Papa Smurf" (a story for another day), so we shortened it to Huey. Simple…
PREPARATION
Have you ever seen World Rally Championship racing on Speed? You know when you see the in-car video of the driver flying along, and the navigator holding on for dear life while trying to call out the pace notes? Well, that'd kinda like Targa, just on pavement, not dirt roads. Since for the last two years, (ok, 1 year and 3 stages, but who's counting) I was a navigator, I was able to teach Nadine what I knew and what I felt worked. This helped tremendously because she was able to look at some video and follow along with our old route books and see what she needed to do in advance.
While she was doing her homework, I was working on securing Continental Tire as our sponsor. Many thanks go to Ed Marhon and Kay Hershey for trusting us to carry the banner for Continental. We also worked together with all the little details of the car: getting the rally computer to work, installing all the required safety equipment, getting registrations and insurance secured, and checking and re-checking everything over and over.  Many a long night was spent with Huey. Bill was a tremendous help, spending most of those long nights with us getting it ready.
THE TRIP TO NEWFOUNDLAND
Mapquest says there are 1,691 miles from Charlotte, NC to North Sydney, Nova Scotia, which is where you pick up the 15 hour ferry to Argentia, Newfoundland. Yes, you read that correctly….one thousand, six hundred, ninety-one miles to the FIFTEEN hour ferry ride! So, at 7:30 AM on Wednesday, September 6, David Fender – our lone Charlotte crew  – and I left with our newly purchased Ford Dually pick up, and 40 foot, 2 car trailer. (we were also taking up the 1980 911 SC owned by Harold Seagle). The ferry loads up at 2:30 PM on Friday, and we wanted to give ourselves plenty of time in case we had any issues along the way.
Do you realize how far away North Sydney, Nova Scotia is? From Charlotte, the Maine – New Hampshire border is only halfway. Look at a map. Halfway….that's it. At that point, we felt like we had been driving for a week, and we were only halfway. Jeez…who put this place so far away anyway?
After about 26 hours of straight through driving, we got a flat tire on the trailer. So we stopped, found a Canadian Tire store, got it fixed, got some work done on the bearings, and were off again. At 6:30 PM on Thursday, we checked into the hotel in North Sydney…and immediately went to the bar. You'd think after 34 hours of driving straight through we'd need sleep. You'd be correct, but we were too tired to realize that. First, we needed a beer or two.
The event unofficially starts with the loading of the ferry on Friday. Dozens of competitors gather in the loading area to rekindle old friendships, and celebrate another competition that will soon be upon all of us. (oh, and it should be noted that Nadine somehow managed to miss all of this "fun" and fly up to Newfoundland instead of drive.  We just call her "Princess"). While on the ferry, most everyone gathers at the bar, watches the band, and relaxes knowing what lies ahead for the next week. The veterans school the rookies on what to expect, what to do, and what to avoid.
When you arrive in Argentia, Newfoundland at 6 AM on Saturday the welcome committee, including Targa Newfoundland Motorsports President Bob Giannou, gathers everyone together for the kick off breakfast in Placentia. Then off to St. John's for Registration, Scrutineering, and final prep work.
Here is where our week got interesting. As we opened the trailer door, there was a huge puddle of brake fluid on the floor. It seemed to be coming from the left rear caliper, and further inspection showed it was a torn piston seal. Now, keeping in mind that Newfoundland has no Porsche dealer or really any Porsche service shop, I was a bit nervous.  Luckily, George Story of our hired service crew in Newfoundland found the correct size seal in his stash of parts and we rebuilt the caliper. Catastrophe avoided…for now.
The Competition
As you walk around the numerous makes and models of cars, one thing that strikes you is the abundance of Porsches: 944's, lots of 911's and our lone 914. Year after year, the Porsches run strong, but for the past 3 years, a 1972 BMW Bavaria driven by Bill Arnold has finished first. There is a "Team Marque" award called the Kenzie Cup, named after Jim Kenzie who sponsors it. A few of us Porsche teams banded together to form the Bavarian Bashers team, focused on toppling the BMW dominance. The team with best average finish of three competitors wins the cup. The primary cars of us Bavarian Bashers were Scott Giannou and Ray Felice in their 1981 911, Glenn Clarke and Evan Gamblin in their 1979 911, and us in our 914. We were all focused on winning, and beating those BMW's…
Sunday is Prologue Day. Basically, it's a cross between practice and qualifying. It's an opportunity for the teams to get acquainted with the competition, with each other, and for the committee to place everyone in their starting positions for Monday. We drive 2 stages, and have a chance to visit an elementary school and a veterans retirement home. This is our first real opportunity to meet and greet the locals. It's just an amazing feeling pulling up to the school and having 20-30 kids crowd around your car and ask for autographs. Prologue is a great day to get your feet wet in what this whole thing is all about – having fun, safe competition.  We did pretty good, got through the day unscathed, and parked the car for the night.
Monday morning started out bad and got worse. As we pulled out of the arena, I noticed that I couldn't get the transmission into first gear. Try as I might, it would not go. I remembered this happening a little while back and John Forbes showed me what to do to adjust it: take a 13 mm socket, loosen the bolt at the base of the stick shift, rotate the shift rod, and tightened it back up. So once we got to our first stage, I borrowed Harold's 13 mm socket, adjusted the rod, and we were back in business….or so I thought. Everything seemed fine until we got up close to the start line. I put it in first, no problem. I pushed it up to second, and it went into reverse. First, reverse, first reverse…No 2nd thru 5th gears AT ALL!!!  I panicked. I must have rotated the rod too far. We jumped out of the car and ran around looking for a 13 mm. socket.  Harold had already left on his stage (with his socket), and nobody had what we needed. I pleaded with the bolt to let go with a pair of pliers. Nadine ran back through the field begging for a 13 mm socket. Nobody had one. The thought that our competition was done before it even began was starting to creep into my thoughts. "Please let go" I kept saying to the bolt. It wasn't listening. Then, the Police Officer that follows the competition asked what I needed. I told him, and he handed me a 13 mm socket. Who'd have thought he had one? I loosened the bolt, rotated the rod back a bit, and tightened it up. I hoped I got it right, but figured there was no way since I still had my helmet on, was still in panic mode, and was winded from running around. Then I looked up and there was no Nadine. She was still running through the field looking for tools!!  When I saw her, she ran back, jumped in, and off we went.
Keep in mind, this was the first stage of the first day of formal competition. I drove fast. Nadine was right on the money with calling her instructions (through her heavy breathing), and we aced the stage. Whew!!  I'm not even sure I ever buckled my harnesses back on. Catastrophe #2 averted.
The rest of Day 1 went fairly smooth, except for the fact that I was very tentative driving and still having shifting issues, and Nadine got lost on a few stages.  It took some time for me to get the feel of how the car handled, what distances were at speed, and to get used to the very rough roads of Newfoundland. You think you have bumpy roads in your town? Some of these have a hard time being called "paved". Oh, and all the gravel, it's everywhere. But that's part of the challenge: build a car that can handle it, and make sure your fillings are in tight or they may be knocked out of your teeth! I actually had a time that we were heading to a turn, I lifted my foot off the gas to go to the brake pedal, and we got bounced so hard that I missed the brake!  Many times, Nadine almost dropped her pace notes as she was turning a page!  But through it all, Huey held up great.
Day 1 ended with a great run through a subdivision in Gander. All the residents were out sitting in their front yards cheering you on as you go barreling through their neighborhood. This is every teenager's dream, to be able to run by all their friends houses, making rights and left at full speed, and not worrying about the consequences (assuming you stay on the street and don't run into anyone's house…). Then it was off to the arena for the nightly car show for the local residents. We finished the day in 17th place overall, not bad considering how it started.
Day 2 takes us to one of the more popular lunch spots – Leading Tickles. After 4 morning stages, the fifth stages races out to what seems like the end of the world. When you get there, you get to experience some of the most wonderful natural beauty of Newfoundland. Leading Tickles is a wonderful little park area right on the ocean, with cliffs, a beach area, and large fields for all the cars to park. You can climb the mountain to get a spectacular view of the coastline, or wander around the beach area taking in the whole experience. Oh, then there's lunch. The locals fix us some great food from moose stew and chili, to fish and chips and a huge selection of cheesecakes and pies. The sun was shining, the food was wonderful, and the company was great. What more could you ask for?
How about another half day of driving? So off we went to finish the day, running a few of the stages we had run earlier backwards, and back to the Gander arena.  By days end, we moved up to 15th place and started to feel more comfortable with our teamwork.
FLORENCE
Day 3 introduced a new participant to the event – Hurricane Florence. Most everyone in the US really didn't know much about it as it never really hit land….until it made it all the way up to Newfoundland. High winds and driving rain (and 50ish degree temperatures) brought a whole new dimension to the competition. Huey has no heat, no defrosters, and is only fairly water tight. So it made it quite interesting trying to drive hard at speed when the inside of the windshield fogs up, the wind is blowing you all over, the wipers can't keep up with the rain, and you're actually getting water hitting you in the face as it comes through the defroster vents!
At one point, a gust of wind blew us off the road into the gravel…at about 80 mph. I managed to hang on and save it, thanks to the wonderful grip of our Continental tires. Glenn Clarke in his 911 got spun around and actually stalled the car. When I told someone that we got blown off the road, the reply to me was "how can that little car get blown around? It's too small to have the wind affect it"…well, a paper cup is small too, but it gets blown around, right?
We ended the day cold and wet (but in one piece) in Clarenville and in 13th position….moving up slowly but surely.
Day 4 took us to the beautiful Burin Peninsula and some very challenging stages. Florence had blown through and the weather was absolutely gorgeous. By now, Nadine and I were clicking on all cylinders, and Huey was performing like a champ.  While we didn't ace any stages, we were really close for every one. Our lunch stop in the town of Burin is another of the most popular places we go. It's a wonderful little town in a cove on the water with a nice little boardwalk that allows us all to walk around a little, enjoy the turkey-dinner lunch, and listen so some local live music. Seven stages made up the day, and as we pulled into Marystown, we were now in 10th place. Suddenly, everything changed…
Leading into the week, Nadine and I set ourselves some very realistic if not conservative goals; finish the week unscathed, win a Targa plate, and place respectably in our class. We never considered any sort of overall placing since there were so many team that have been doing this for all 5 years of Targa. Now, that we were in the top 10, the stakes changed. We were determined to stay top 10.
THE HOME STRETCH
The organizers decided this year to really test the competitors on the 5th and final day with 9 extremely challenging scheduled stages. After 4 days of punishing stages that have taken us all over Newfoundland, we were heading back to St. John's….but not before we ran the Marysvale stage. You see, Marysvale is where Casey and my campaign ended in 2005 after hitting a very large piece of Newfoundland at a high rate of speed. Luckily, we were running the stage in the opposite direction so it did not seem as familiar as it might. And guess what? We aced the stage!
In reviewing our in-car video, you can really tell what stages were early in the week, and which were at the end. Early on, it looked like we were on a Sunday drive. On Friday, it looked like we were flying. On one stage, the instructions read "this stage has very rough roads". Really? And what have we been on all week?  We couldn't comprehend how bad they could be if they prompted the course organizers to warn us about the conditions. To be honest, I'm not sure they were much worse than any others. We just went flat out, and bounced our way to acing the stage. Unfortunately, in the end, we dropped down to a tie for 11th place overall and didn't make our goal of a top ten finish by 35 seconds.
A big part of Targa is the social interaction between the competitors, event staff, the over 2,400 local volunteers and of course the residents. In just about every town, we take time to meet and greet all the locals…and the final Friday at the end is no exception. Parading through St. John's, knowing what you just went through, and ending up on the wharf getting your finishers medallion is truly memorable. People are cheering, taking pictures, and "partying in the streets". The overwhelming feelings of relief, accomplishment, pride and excitement take over and any sense of being tired quickly gives way to the evening partying.  It's a good thing that Saturday is a day of rest and sleeping late, because most of us are not very coherent until maybe noon or so. Trophies are given out at the Saturday evening Awards Gala, when we all get the chance to relax and applaud the accomplishments of our fellow competitors.
Overall, the Porsche teams did extremely well. 1st place overall was won by Glenn Clarke and Evan Gamblin (great job guys!!) in their 1979 911. Scott Giannou and Ray Felice finished in 7th place (and FINALLY got their Targa Plates) with their 1981 911. Bruno and Mario Criveller in their 1985 911 ended up 9th. And we tied Greg Holland and Michael Caratti in their 1985 944 Turbo for 11th place.  And what about the Bavarian Bashers? Yep, we won the Kenzie Cup, beating out all the other marque teams.
On Sunday, David and I loaded up the truck and trailer and headed home. We discussed our plans for next year, and how we could be more competitive, better prepared, and how to bring a more complete team and crew. The long trip was uneventful (thankfully) and we arrived back in Charlotte Tuesday evening.
Nadine and I did great together, never argued once, and no, we have no plans for a divorce. We had so much fun, it leaves us wondering what Mae West would feel about adding "….then a fourth time to do it better"?
Click on the picture below for an album of picures from Targa Newfoundland 2006.
CHAPTER 3: TARGA NEWFOUNDLAND 2007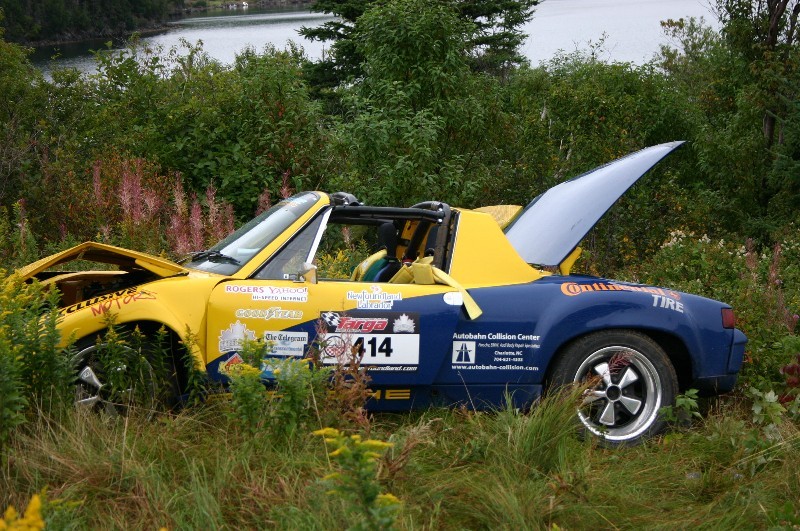 Posted on Tuesday, Sept 11, 2007
OK, let me start by saying we're both OK.
Now, the details…..This whole trip was a nightmare from the start. Delmar Kiser drove the truck and 2 cars up to Halifax for us, where Nadine and I were meeting him to bring it across the ferry to Newfoundland. Only hours into his trip, the trailer blew a tire, then the truck wouldn't start. I left Charlotte and ran up the highway to get him new batteries, and he was on his way. The next day, in Harrisburg, PA, he had starting problems and found it was a bad starter, so he got that replaced.
No issue all the way to Halifax, so we thought all was behind us. We met him and drove it to Sydney, NS and stayed the night, meeting up with some old and new Targa competitors for dinner.
Friday morning we got in the truck to drive to the ferry. About 1 mile into the trip, the "service engine soon" light went on, and the truck started to lose power. only 5 miles from the ferry, the truck died on the side of the highway.
Doug Mepham, Tony Kloosterman, and Sebastian (forgot the last name, sorry Sebastian) stopped and we determined that the truck was not going to start. We called for a tow, and these guys took all of our stuff to the ferry in their trucks and trailers.
We got towed to the local Ford dealership, with the hopes that it was a minor problem and we could get on our way. We had an hour or so until we had to be at the ferry, so we had a small amount of breathing room, but not much…..
About 45 minutes later, it was determined that the fix was not easy or quick. It was the injector control module that had to be replaced. So, we decided to unload the cars and drive them onto the ferry, leaving the truck and trailer in Nova Scotia. We unloaded the 914, and Harold Seagle's 911….which wouldn't start. We tried and tried, but it wouldn't turn over. All the Ford mechanics came out, and nothing…. Finally, after 30 minutes, they jumped a circuit and got it started. We race to the ferry…… only to see it leaving in the distance…..
So, here we are in Nova Scotia, all our stuff (luggage included) was on the ferry to Newfoundland, and we weren't.
2 hours later there was another ferry to Newfoundland, but it was on the opposite side of the island (Port au Basques), making it a 10 hour drive from the ferry drop off, to St John's – our destination.
A note on the time here: the Port au Basques ferry leaves at 5pm, getting in at midnight. Then we have a 10 hour drive ahead of us in 2 track cars that are in no way comfortable to drive for long periods of time. Well, we had no choice but to do it, and off we went…..
….so, here we are, driving across Newfoundland at 1am. Keep in mind, NOTHING is open at that time of night, not to say there is even anything on this side of the island. 3 hours into the drive, we realize we're going to need gas soon, again, NOTHING is open. We finally find a station and fill both car up completely – they were almost empty!!!
The rest of the trip to St. Johns was uneventful except for the moose I kept seeing at about 3-5am…..VERY Big moose, much bigger than Jeff's deer (inside joke here).
OK, so we make to the event, tired, worn out, but we're there. All goes well, Harold's car still has starting issues, but our 914 "Huey" is running great. Bill Dunster, our crew, and Richard Burpee of Mantis Sport adjust the ride height on Huey, but that's it. Everything else is great.
Sunday is Prologue day, a day to do a couple runs to get acquainted with the car and the crew with each other. We do well, running fast and smooth. Good day all around.
Monday is the first day of real competition. Rain is threatening, but nothing really in the morning. We head out to our first 2 stages and ace them easily. Huey is running great, Nadine is on the mark, and I am feeling very comfortable again.
We stop in Placentia for breakfast, then make 2 runs to the lunch spot. It's starting to rain a bit, but not bad. We ace both stages, even after I skid into someone's driveway and stall the car. It wouldn't start for a few seconds, but it turns out we made the stage anyway…
(Click on picture below for an album of Pictures from the start of Targa 2007)
Now, comes the bad part…..
We head out from lunch back the way we came. It's raining, and the road is very slick. I back down a notch or 2, and we're doing great.
Right near the end of the run, there's a wood bridge. Nothing very amazing, about 20 feet long or so over a stream. I come down the hill, point the car straight on the bridge….and spin instantly. Unfortunately, I was going fast enough to not be about to save it and we head off the road.
For those of you that have spent years driving on the track you know: you don't try to just jerk the car back on the road, you drive straight, settle the car down, and get back on the road under control.
However, this is not a race track. The road has a big dip down then up into a field, which launches us airborne, we land on the nose, flip over onto the tail, then land on the wheels again. Yes, you read that correct, we flipped nose to tail. This happened so fast, we didn't even realize what happened until we stopped, and saw the hood buckled in front of us.
We both climbed out of the car stunned, shocked, and quite upset, but not injured at all. As we sat there thinking of what just happened, another car came across the bridge and spun off too, flipping sideways. Then 2 more spun off into the woods.
Had a marshal before the bridge not waved people to slow down, there would have been much more carnage. As it was, 5 cars went off there, 4 others were close, and most of the rest tip-toed across due to the marshal's warning. Unfortunately, we had no such warning
In the end, our beloved little 914 Huey is totaled. Nadine and I are devastated. We both feel we've lost a member of the family here since we've put so much time and effort (not to mention money) into getting this car exactly as we want it. Who's fault was it? Who knows. It was a racing accident. Unfortunately, it happens. But this car was special, and it will be missed….
I am now sitting in a hotel in Port au Basque (remember, 10 hours from St Johns that we drove today) waiting on the ferry Wednesday morning to bring the truck and trailer back, so we can drive it to St. Johns (10 hours), pick up Huey and load up Harold's car on Saturday, to then come back here (10 more hours) on Sunday to catch the ferry back to Nova Scotia.
This is suppose to be fun right????
Say a prayer for Huey…he was a good car that served us well.
Tuesday, Sept 18, 2007
So, we're back now. This was probably the worst 10 day stretch of our entire lives. 40 hours of driving back and forth across Newfoundland in the rain, fog, cold, dark, etc., eating at gas stations 4 days as we drove back and forth, staying in little b-f nowhere places, standing out in the cold to help marshall a stage so the other competitors could run….Oh, and totaling our wonderful little car.
Bill Dunster from Autobahn Collision – our crew – managed to get the car back running on the road again, if not just to get it across the finish line at the end.
To top it all off, they have a "Spirit of Targa" award. there is no defined criteria for this award, just the team or person that showed true "spirit" or persevered through adversity. You'd think with all we went through, we'd win that, right? Nope. Just to put the icing on the cake for the week, we didn't even get that.
So ends our Targa adventure. I had such high hopes for this year. Oh well, that's racing, right??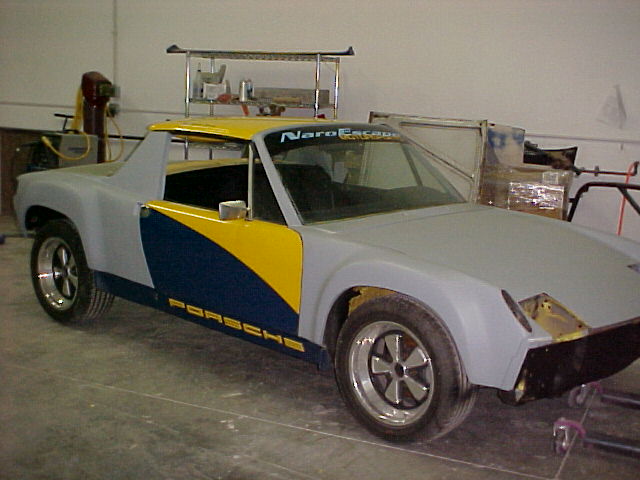 Needless to say, after the 'adventure' of Targa Newfoundland 2007, we were not in good spirits. All those years of hard work, preparation and money spent was reduced to a bent up pile of metal sitting under a cover in our garage. We didn't know what to do, or where to go with all of it.
PCA holds an annual gathering of all things Porsche called Porsche Parade, and in July 2008, it was slated to be held in our home town of Charlotte, NC. At the time, Bob was the Carolinas Region PCA President, so both Bob and Nadine were very intimately involved with the planning and organization of the event. In November 2007, just 2 months removed from Targa, a major planning meeting for Parade was held. At dinner one evening, PCA National President Prescott Kelly started pushing us that we NEEDED to have Huey at Parade next year. We said no way. " You MUST have Huey back together in time for Parade, you just gotta do it!"  We argued that we had no time, money, or desire to do this again after spending 2 years getting it together the first time. Unfortunately (or fortunately) at that meeting was also Bill Dunster, owner of Autobahn Collision Center and the builder of Huey (and Crew at Targa 2007). Bill liked the idea, and said "Sure, we can do it!". Well… after a few bottles of wine and some arm twising, we decided to give it a shot (no peer pressure here, huh?). By now you probably realize that, like Papa Smurf, Huey is part of the family, so we realized we HAD to do this!
So began many late nights, lots of scrambling around for parts, and tons more effort on the parts of Bill, and John Forbes and his team from Black Forest Racing.  Nadine spent about a week completely stripping everything off of Huey, down to wiring harnesses and trim. Bill took the chassis and saved as much of it as he could, while combining new and used parts to rebuild it back to a solid GT body. This time, we decided to use steel flares instead of fiberglass due to some issues we had previously. We saved as much of Huey as possible, but replaced a lot too due to damage or structural weakness.  Three 914  donor chassis' were 'sacraficed' for the good of Huey.
Due to the frantic nature and limited timeline (less than 10 months) we realized we took very few pictures along the way of the rebuld (almost none). Here are the few we have:
Once the chassis was completed and painted, we started the long arduous process of reassembling everything the way it was before.
and just a few days before Parade, Huey was completed enough to drive and show. At this point, there are still a few things that need to be completed to be able to compete and use often, but he's coming along nicely.
Huey debut at 2008 Porsche Parade in Charlotte
Huey was parked in a place of honor on the corner of Trade and Tryon in the center of Uptown Charlotte for Parade. And while not totally complete, he stood proud and looked awesome!  He was even displayed in front of Continental Tire's North American HQ for the start of the Continental sponsored Gimmick Rally!
So now lets add another twist to the Huey story…Prior to Targa 2007, renowned photographer and writer Bob Chapman had inquired about writing a story about us and Huey, following our adventures at Targa. As you can imagine, that story was cut a bit short due to our mishap, but Bob still wanted to write something. So, he attended Parade and sat with the two of us, discussing this whole saga. At the end of the day, with all the cars being moved off the Charlotte city streets, Bob said "lets go take Huey for a ride so I we can take some photos and see how it drives". I said " uh…not a good idea. We only hooked everything up JUST LAST NIGHT and I don't know if it will even go very far. Carbs aren't tuned, throttle and clutch cable aren't adjusted, shift linkage needs sorting…not a good idea at all". "It'll be fine, lets go!" he said.  So we went driving around Charlotte, looking for a good photo op.  I came to realize that I have no idea what makes a good photo shoot for a car, especially when you're in the middle of a city. so, we drove all over the place, eventually heading about 10 miles out of town to the lake we live on to take these (my pictures…his are much better)
and of course…as I feared, the car broke!  It was just the pivot that attaches the throttle cable to the pedal, but it bent so you have no throttle. I climbed under the dash, bent it back, and determined that we had to drive very carefully to keep it from happening again. Unfortunately to that point, Bob had not driven and he wanted to try it out to get a feel for the article. So I made him baby it and 'imagine' what it would be like!
I was afraid he would either not do the article, or not be very complimentary in what he wrote. On the contrary, he wrote a WONDERFUL article that was published in the April 2009 issue of Excellence Magazine appropriately titled "Huey Kablooey"
We now use Huey for Autocrosses, Car Shows, spirited back country drives, and our newest venture into SCCA Hillclimbs. Through the years, Huey has undergone a host of changes, primarily to the engine and 'creature comforts' – if you can call them that. We installed carpeting and some sound deadening for the long road trips.  He now has a very reliable 3.2 liter Carrera engine that provides all the hp and torque this little car needs.
Click on the picture below to play a slide show of random photos of Huey.You can scroll through the slides by clicking the arrows. Enjoy!.